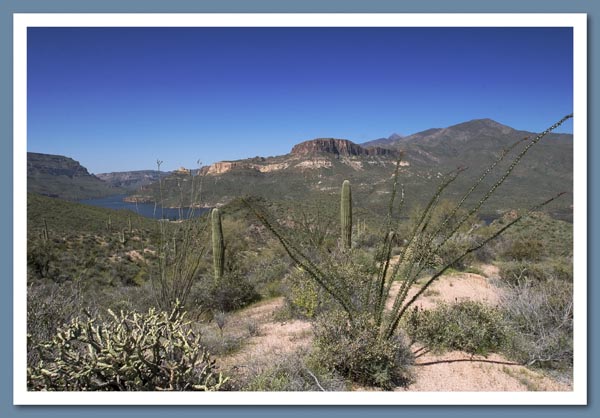 Apache Trail,
Tonto National Foreset,
Arizona, USA
Around 900 AD, Salado Indians occupied the area surrounding the Superstition Mountains and created many trails which were later used by the Apache to raid villages along the Salt River. In 1903 the Apache Trail was developed and used to haul supplies from Mesa to Roosevelt Lake for the construction of the Roosevelt Dam, bringing water and electricity to the Salt River Valley.
The trail, can be traversed in either direction, and runs between Apache Junction in the west, and Globe in the east, on steep, winding and mostly unpaved road, covering some of the most rugged terrain in Arizona. For me, the section between the old-west style settlement of Tortilla Flat (population 6) and the Theodore Roosevelt Dam was undoubtedly the most interesting and scenic.
Passing other cars, not to mention the occasional boat, can require a little care and this is particularly true when climbing up through the Fish Creek Canyon portion of the trail. The road hangs on the side of this high-walled canyon and winds its way along precipices that sink sheer for hundreds of feet below, but the view from Fish Creek Canyon Overlook is awesome. The western slopes of the Superstitions have some of the most spectacular wildflower blooms in western Arizona, with Mexican Gold Poppies, Blue Lupine, and Purple Owl Clover.
Further information is available at:
Getting there? Map
Copyright © 2005, Robert H Mayne, All rights reserved
All photographs and graphics used in this document are copyright materials © 2005